Successful career Artist Philip Harris's contribution to a Visual Arts post,
"A day in the life of an artist" tallies his daily activities mimicking some of the Greats.
Expressing his wit, he states,
"I'm convinced that friends and family believe that I spend my days wearing a smoking jacket and swapping witty aphorisms with the characters from a novella by Oscar Wilde."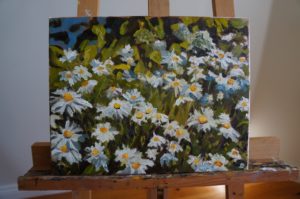 Thou you may not picture me wearing such a jacket, your recent inquiries about exhibits, work habits, what am I up to, hint of mysterious smoke.
Let's clear the air, go behind the scenes for a moment, and tackle these burning questions, friends!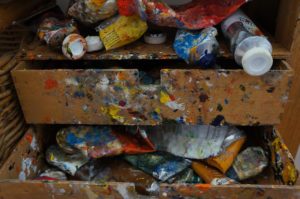 1. Do you paint everyday?
I work every day.
I paint 4-6 days a week depending on scheduling. Being prolific doesn't mean it comes easy. I don't have a smidgen of so called 'natural talent,' (see my Mother's Day card below. My brother did the printing).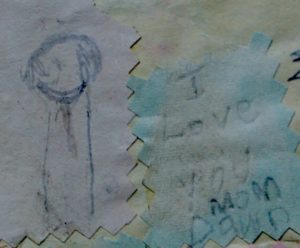 I am prolific because I work really hard. I keep routine to conserve headspace for the canvas, have developed some proficiencies, like prepping boards, organizing tools, reference filing, etc.
If not in the field, I work in my home studio, a lovely space with amazing light thru the day, built by Marc. At times, visitors come to sit in the rocking chair with tea, remarking it's a 'sanctuary space.' I would agree.
Being self employed -full time, like other business owners, I wear a lot of hats. (or jackets). Responsibilities beyond painting include inventory collection, gallery visits/ calls & updates submissions, field research, sourcing new venues, social media, website updates, exhibit research, industry research, press release writing, marketing& sales, ( some clients may purchase one painting in their lifetime, it's a necessary cog in this wheel to always be sourcing new collectors.) logistics, deliveries, wrapping & shipping ( it can take half a day to wrap a painting for shipping).
The blogs have attracted attention from Fitness & Health magazines in the US and Australia, dealers, gallery owners, investment collectors, new & veteran collectors, artists, neighbours and cousins, people from all walks of life from 8 – 92.
Because the newsposts are a big part of my business, I spend a lot of time researching ideas and writing. At any given time I have a dozen newsletters half written. If I am crunched for time, working on the art, I can finesse a post I had begun previously.
2. Do you ever run out of ideas for painting?
No. Never. I run out of supplies. Literally.
To paint more, I need to sell more, it's a business balance.
3. Since the exciting Sask Exhibit announcement, questions filter in weekly.
How did it come about?
After meeting Bill 8 years ago, and handing him my card, he mentioned the possibility of showing my work. I didn't let that idea die, and was in touch regularly with him after that. It was years before I was accepted. The last two have been sorting out details of timing, inventory requirements, etc. Exhibits never happen overnight, certainly not in a reputable gallery like the Shurniak. A few artists have written since," It's every Artists dream to show there."
How will the Exhibit work?
The show will run from Oct. 1, to Nov. 30. I will attend the opening, then return to close up the show.
They have asked for up to 30 or so pieces, depending on size. With a solo show within the gallery ( the permanent collection is always on display) ,I am allowed to have my own theme, choose sizes, subject matter ext. It's a wonderful freedom, as for most showings the artist has to meet gallery criteria of sizes, themes, etc.
Shurniak Gallery is a non-profit. Any sales will take place after the exhibit with collectors getting in touch with me directly.
Work has to be complete at least a month- 6weeks prior to the show for drying purposes, shipping and cataloguing.
I won't publicly show the collection for the exhibit until after the show opens, thou you have glimpsed two pieces.
~ in the meantime, I need to work on new inventory for my representing gallery in Kelowna, and inventory I can keep selling thru the months until Oct.
This brings me to the next question.
4."If we don't see a post from you we think you have quit painting."
This news blog is an interesting phenomenon. Over a dozen clients mentioned this when the post was getting blocked by the web server. If you don't check the website for recent posts & work, with dates listed, and contact me, I have no way of knowing who may or may not be getting the posts.
For the record, I am painting a lot, and with this new body of work being kept under wraps, please know I am here for you, even if I am quiet. Quiet is when I do my best work. :))
There is a great selection of paintings available for purchase. I would love to help you with your collection.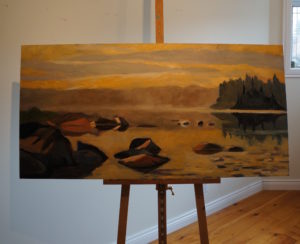 5. "You must feel so rewarded when you finish a painting".
I never feel like the work is finished until it finds a home. Because of this it can be a roller coaster of emotions at any given time. The work itself is always developing, and that's pretty cool. I am pleased with the momentum and look forward to continuing the trek.Its utter joy to be creating something that has never been before, every day. .
~
What else?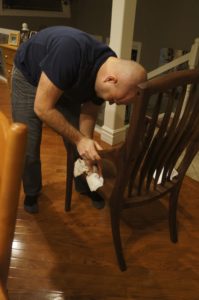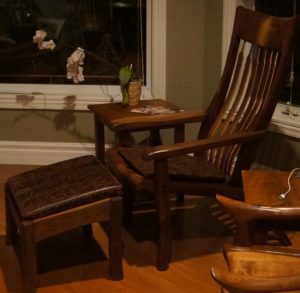 Once in awhile I help Marc design furniture. He is an incredible craftsman with an engineering mind, whose creativity continues to grow. It's amazing to see one of my sketches come to life in 3-D.

He is super passionate for music, kindly getting us out of our respective studios to see wonderful live original music. Music replenishes the soul! In my spare time I can be found on my bike, running, wandering trails, reading, etc.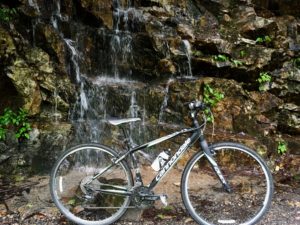 Thanks for your letters, continued interest & collection of the work, and lovely cards!
Wishing you all good things from the studio!
~
P.S ~ You've asked about my role models.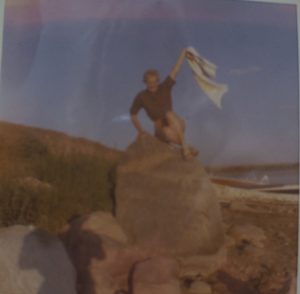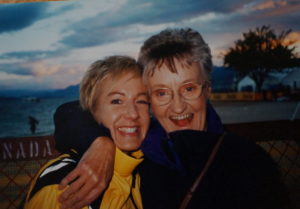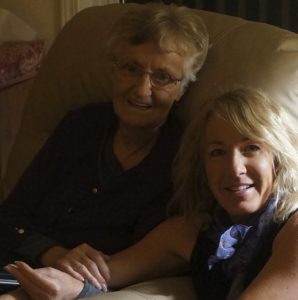 My Mom was a huge influence in my life. She was my creative sounding board, compass and BFF. A self proclaimed badass, she was my hero in every way. I miss her every single day, and like to believe a light that shone that bright, never really goes out.
The Daisy painting was donated to Watrous Hospital in her memory.
Happy Mother's Day to all the amazing Mom's out there.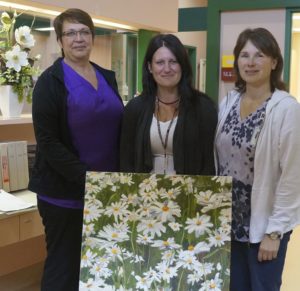 ~
New Work  all avail for purchase~ Daisies & Hydrangea- 11×14 oil on canvas
Evening Light – 4f x2ft oil on canvas
Other Photos:
Paint box. Mother's Day card drawing _ not recent. :0)
Studio
Shipping material :One of three rolls of varying materials I use for shipping.
Birch painting on display in Anchor Coffee House avail. for purchase
Drawing new chair design- Marc's  previous work and new chair in progress, half finished.                                                                                                                             My bike
Mom, Mom & Dawn
Daisy painting donation 22×28 oil on canvas