All work is original oil, unless otherwise stated.
The website exhibits current and samples of archived work. I create up to 125 + Original paintings a year. Please feel free to contact us, we may have the perfect piece for you in our archive collection if you do not see it on line.
Pricing has been set according to canvas size, in collaboration with my representing galleries.
Prices are consistent with each venue, including my home studio.
Rule of thumb in Canada is to increase pricing approx 10% each consistent year the artist sells .
Pricing (shown below) Shipping is not included.
How to Purchase
Purchasing from the Studio, payment can be emailed ( e-transfer).
Swift for International purchases, cheque, cash or money order is acceptable.
Most Galleries accept credit cards, cash, cheque, debit, e-transfer.
If you wish to purchase thru a dealer/ gallery, rather than the studio, we will do our best to make this arrangement.
Copyright of original work in Canada belongs to the artist, all lifetime work, SOLD and UNSOLD, continued for 50 years past the death of the artist, as copyright belongs to the estate of the artist. This means any form of copying the work/ reprinting the work is against the law.
2023 Price List- CAD $
( subject to change / annual increase)
Canvas size in inches, Original oil or acrylic unframed.
Commissions subject to higher pricing- varying on complexity.
6×8 ~ 480.00
8×10~ 600.00
9X12~ 640.00
11×14~ 850.00
14×18~ 1100.00 16×20~ 1,460.00
12×24 1,260.00
18X24~ 1,460.00
22×24~ 1,860.00
22X28~ 1,960.00
24X30~ 2,380.00
3ftx2ft (24 x 36)~ 2,860.00
3.3ftx2.5ft(30 x 40)~ 3,520.00
4ft x 2 ft~ 4,780.00
4ft x 2.5ft(48 x 30)~ 5,060.00
4ft x 3ft~ 5,260.00
5ft x 2.5ft~ 5,920.00
5ft x 3ft~ 6,250.00
5ft x 3.3~ 7,150.00
5.5ft x 3ft~ 7,040.00
6ft x 4ft~ 11,450.00
Other sizes available upon request. Commissions require half, non refundable deposit.
Commissions
It's my hope you will discover your perfect painting among existing inventory.
I rarely accept commissions for various reasons, including:
1. You lose the collective value of your painting if you are asking me to work outside of my known genre or 'dictate' the piece.
I will consider your project if:
1. You are an existing client/ collector of my work.
2. The commission is for a specific size not available in current inventory.
3. You are flexible on creative content & respect the creative process.
Commission Terms:
1. Commission price will be from 15% higher to double current inventory pricing, depending on content.
2. A 50% Non- refundable deposit is required.
3. Flexible deadline.
Framing/ Displaying
Canvas edges are finished with black paint,and ready to hang without frames.
No glass is used framing original oils. Work is meant to viewed from approx 6 ft away or further. Examples of edging/ wire/ signature below.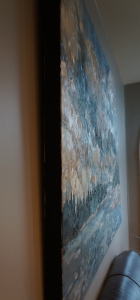 2 inch profile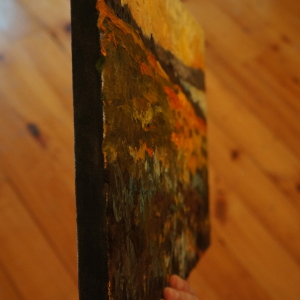 one inch profile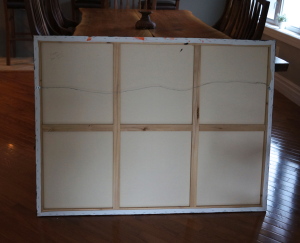 back of large work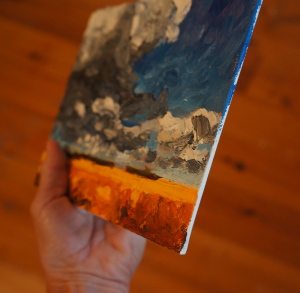 canvas board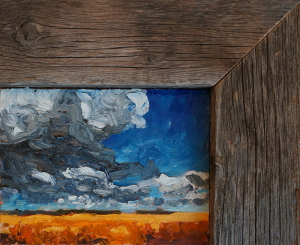 canvas board with sample barn wood frame style.