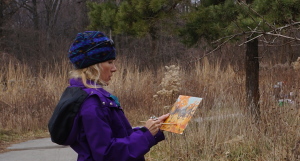 "Dawn's canvas's evoke a world alive with motion, resonating with life that reaches up out of the soil to the sunlight.Her images invite us to celebrate this world, to imagine that which lies on it's outer edges, and to participate in a world moving in light" D.L
She comes by her passion for nature quite honestly. Her mother, a nurse and avid gardener,  loved to be outdoors. With her father employed as a Park Conservation Officer, Dawn quickly came to love all the things in nature that she encountered daily in Saskatchewan's Provincial Parks.
She has been deeply influenced by the vast diversity of Canadian regions in which she has resided, from the living sky of Saskatchewan, to the vibrancy of the Yukon, the lush forests of B.C, to the colorful parks of Ontario.
Dawn's rooted connection to nature inspires her emotional impressionistic compositions bathed in a rich colourful palette.
With an affection for endurance sport, she is a seasoned marathon runner, avid cyclist, Ironman participant and happy wilderness wanderer.
Selected Exhibitions
1983 – Meadow Lake, Saskatchewan – Juried – awarded honorable mention
1983 – North Battleford Saskatchewan – Juried – provincial exhibition
1983 – Meadow Lake Saskatchewan Library solo exhibition
1996 – Victoria British Columbia Eaton's Centre Gallery
2003 – Farmhouse Pottery – Hockley Valley – Spring
2003 – Burdette Gallery Group Show – Spring
2003 – Farmhouse Pottery Guest Art Fall Tour
2003 – Logs Canada Showroom Hockley Valley – December
2004 – Burdette Gallery Group Show – June
2004 – Headwaters Studio Tour September – October
2005 – Legacy Wild – London Exhibition
2016 – Ranchmen's Emerging Artists Exhibit~ Calgary.
Many public, corporate and private collectors have acquired Dawn's works, in all regions of Canada, internationally and in the US. A  strong supporter of charities, Dawn donates work each year in support of various fund-raising activities.
Dawn was selected to be a Signature member of the prestigious AFC Foundation (Artists for Conservation) in 2009.