Standing proudly near the entrance, a beautiful colt by one of Canada's most recognized sculptors, Joe Fafard, offers a clue to the extraordinary collection inside.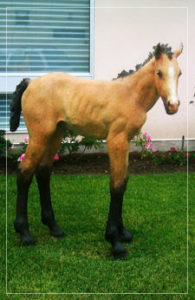 Located on a quiet street in a small prairie town the 8,000sq foot Shurniak Gallery houses one of the most prestigious private collections of Canadian & International art, including work by A.J. Casson, A.Y. Jackson, Lawren Harris, Arthur Lismer, Alan C. Collier, Nicholas de Grandmaison, James Henderson, Doris McCarthy, Franklin Arbuckle, Yehouda Chaki, William Winter, Robert Genn, Jeannette Perreault, Pat Service, Goodridge Roberts, Ross Penhall, Laurie Campbell, Allen Sapp, Robert Scott, Arthur Schilling. International work by Bernard Cathelin (France), Jacob Esselens (Holland), Phillipe Ancellin (France), Carlos Nadal (Spain), Archie Forrest (Scotland), Athos Faccincani (Italy), and David Paskett (England), just to name a few.* (per Gallery website).
The portico, designed to resemble a covered wagon, is a testament to deep homesteader roots.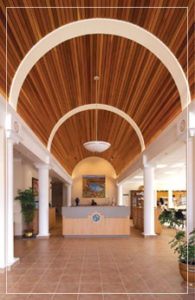 Founder William Shurniak, recipient of the Order of Merit,
surprised the nation when he chose to build a gallery to house his incredible extensive art collection, not in Vancouver, Toronto, or Saskatoon, but in his hometown, of Assiniboia Saskatchewan.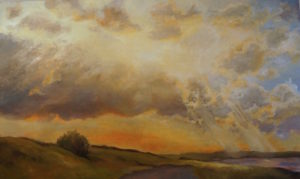 After leaving his family farm to pursue a lengthy international career in banking, world travel enabled him to build a diverse & extensive art collection. He eventually returned to Saskatchewan in semi- retirement, building the gallery in 2005. "I want the gallery to be a place where people will feel free to visit frequently; [a place] a place they will be able to linger, relax, and enjoy the paintings." He continued, "Art is to be appreciated by people of all walks of life." (quote: Hackwriters.com)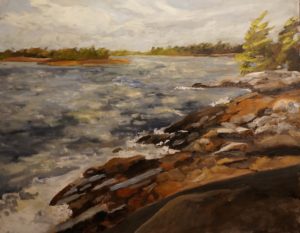 Relaxed and unassuming was my first impression of Bill, encountering him wandering his gallery 10 years ago.
With a smile that can light up room, he radiates warmth and kindness.
His passion emanates talking about his collection. After escorting me to his private office to view Group of Seven paintings, he was called away, leaving me alone in the room with priceless paintings.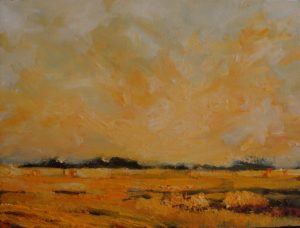 After I thanked him for the private tour, he asked what I do for a living.
Gazing at my business card, he said "Perhaps one day you will exhibit here."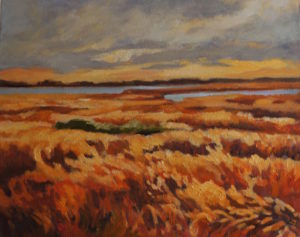 It was a dream I didn't let go of, and the time has finally arrived.
I am thrilled my exhibit "Homecoming" at the Shurniak Gallery will be opening Oct 1,2018, to Nov 30 2018.
I have resided in some of the most beautiful regions of Canada, yet, there is only one home.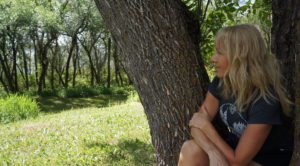 The place and people who formed me will forever be a huge part of my heart, life and work.
Thank you, Bill Shurniak ,for inviting this prairie girl, back to her roots.
~
Above: Photos from the Shurniak Gallery website/ Joe Fafard colt & gallery entrance.
Work available for purchase:
Bay ~24×28 oil on canvas
Bright Sun~ 5ftx3ft oil on canvas
Sunshine ~ 9×12 oil on canvas
Morning Light ~ Pelee Marsh 16×20 oil on canvas
Photo of Dawn- childhood home, Kenosee Lake, Sask.
Please feel free to visit the studio by appoint, I have a great collection of recent work available for purchase. If you are in the Okanagan region, visit the Hambleton Gallery in Kelowna.
Most of the new collection for the exhibit will be kept under wraps until the opening.
~ Read more about the fascinating William Shurniak here, and here.
William is a philanthropist, personally donating $100,000+ to the Trans Canada Trail.
~ What else is new? Vision Quest presentation is complete!!! If you wish to be invited to attend viewing in the Windsor, LaSalle or Hockley Valley areas, please email me to be on the list. dawn@dawnbanning.com