A common trait/ theory of landscape artists is their work flourishes due to connection of a specific region.Think Monet & his water lily pond, Gauguin in the South pacific or Emily Carr's Northwest forests.
Modern day landscape artists may reserve focus for places close to heart.
I questioned a famous global traveling painter about his life work devoted to a specific provincial region.
"In other places I am merely a visitor. In this region, I am home," expressing it would take decades to form emotional attachment to other places.
He wondered what would inspire me to paint diverse landscapes, even, places I had never seen.
Born to nature loving parents, my upbringing was unique.I have no doubt this is the foundation of how I relate to and paint nature.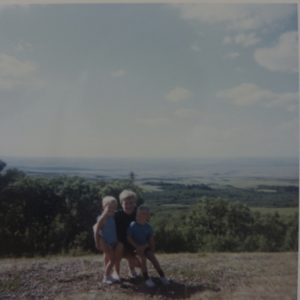 I feel we are all visitors on & caretakers of this planet, and, yet, also in it's entirety, earth is our home.
Dad's career as a Conservation officer ( & Park Superintendent/ Manager) for Saskatchewan parks required us to live within the park.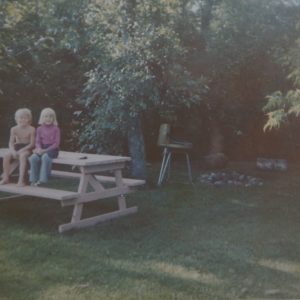 Staff were transferred frequently to experience the Province's diversity firsthand.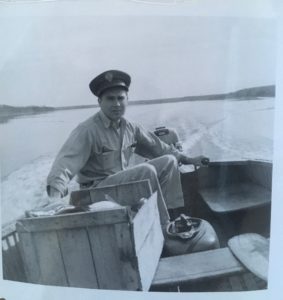 These parks were often located near First Nation communities. My parents first home was in a northern reserve.
Thou I was young, I still feel the whispers & influences of these wonderful people.
It was amazing living within these glorious parks that ranged from southern peaceful valleys with pristine lakes rich in fishing & birds, to northern boreal forests teaming with wildlife, skies lit with aurora borealis. Summer holidays we would camp & explore other parks.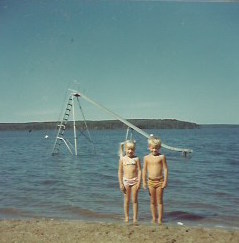 Often living remotely, we grew up, as my brother says "running wild in the bush". It was a glorious freedom we still treasure.
Moving frequently taught us an appreciation of landscape (& human) diversity and adaptability. I could fall in love with a new home as quickly as drawing in a breath.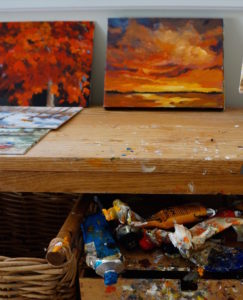 It's this deeply rooted connection that comes thru in the work, and the diversity that you see.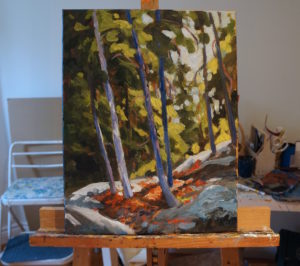 In adulthood, I have lived in some spectacular regions of Canada. I roamed the Yukon's arctic tundra, ran Vancouver Island's ocean beaches and rain forest paths. I wandered Okanagan orchards and Ontario's Bruce trail in autumn and snowy winter.
International traveling took me walking Australia's outback, witnessing blooming Scottish heather fields, swimming with stingrays in Cayman and cycling mountains of the Smokeys.
I can still fall in love and feel connected with a 'new' landscape in one breath.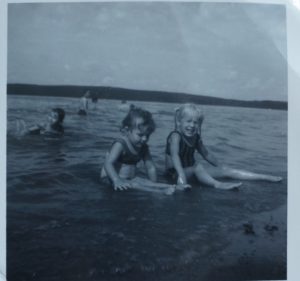 ~
"We want the background story.
What is your connection to these places?
How can you can paint landscapes you have never seen?"
~
New "Windy Day" 8×8 oil on canvas $400
"Forest Nook" 14×18 oil on canvas $825