Superpowers.
(Click on highlighted text for further reading.)
The new blockbuster "Wonder Woman" features incredible images of superhuman abilities.
Creativity, in reality, is one of our amazing superpowers.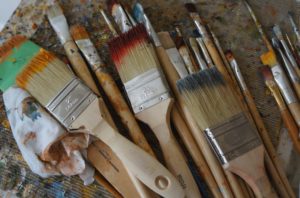 Science is proving brains function at a higher level under the influence of art, for both non- creative & creative folk. (Read about benefits of the arts here and here.)
It's such cool stuff, yet why is fine art considered a luxury item, when science is proving it fuels human development and health?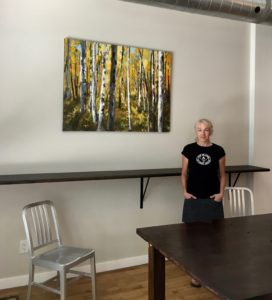 It's common knowledge the arts offer emotional connection and new perspectives. In fact, the benefits go well beyond these initial findings.
Creativity itself is woven into nearly every aspect of human existence.
I spoke about the interweaving theory in my presentation "Creativity is our Superpower" at a local school.
"Think of art as cross training," I said.
Creative tasks can improve math ability, academia function and communication skills. Observational and visualization skills are necessary in sports, communication, science, crime investigation, entertainment fields, and medicine. Technology, innovation, architecture, conservation require artistic influence. Creative vision is found in all design, from running shoes, cars or green energy.
Skills taught in art class are highly transferable. MacGyver likely excelled in art class.
When Peter Mansbridge Wayne Gretzky his views on modern hockey, creativity was the forefront of his response. https://www.youtube.com/watch?v=5kW5K08wdvI
"We have lost playing on the pond…using your creativity and using your imagination…It's become more robotic."
He makes a worthy point. Creative play & imagination are important for development.
Encouraging creativity in children, infusing their environment with art, we equip them with tools for a better life and better world. Independent creative play allows exploration, adaptability and valuable cognitive function.
Adults, beef up your creative muscle, you boost your brain & well being.
Recognizing the value of the arts we reap benefits from the diverse wealth they offer. Erase barriers that keep us from living a connected creative life.
Embrace the wonders of art and unleash our superpower.
~
Seeking ways to improve your creativity? Check out my Free Ebook online.
~
All new work is in various stages of progress, the studio is a beehive of activity!
Anchor Coffee House Walkerville location in Windsor, ON is due to open this week! Enjoy a wonderful cup of coffee, or lemonade with homemade baked goods. You may select a seat with a forest view. :0) "Forest" on display and avail for purchase.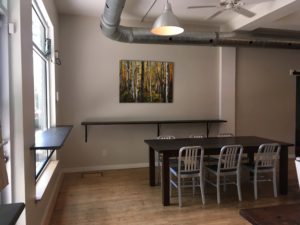 "Sunset Pine" 14 x18 oil on canvas  825$ CAD
"Sunlit Forest" 9×12 oil on canvas 480$
"Pine" 24×36 oil on canvas ( sky is lighter as of this week). 2170$