Art is meant to abundantly serve you.
If it was simply self expression, the work would never be released to the world, like private journals kept under lock and key, stuffed in drawers and closets.
The instant art is released to the world, its purpose is to deliver, nurture, guide, indulge, comfort, support, sustain, gratify, benefit, accommodate, and engage you.
"Her images invite us to celebrate this world, to imagine that which lies on it's outer edges, and to participate in a world moving in light" D.L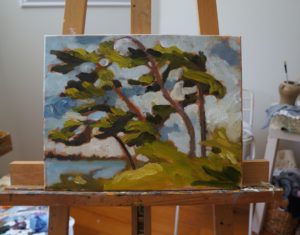 In the work, I am connecting to what's outside within, not the other way around.
Drawing on energy around us, finding a way to channel that dimension and deliver it to you.
To connect and share story, experience, life. A universal language spoken in nature's tongue.
A photo may capture the light, a painting beckons you to bath in it, drenched in colour and warmth.
It's tangible living experience. The brush, a caress brought to life in pigment and energy.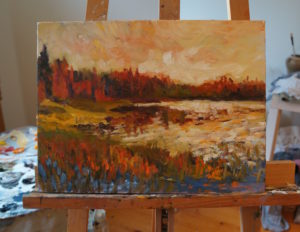 The moment you acquire art, you become woven into the fabric of it's story, of it's legacy.
It's journey truly begins the moment it finds you.
~
Note:  Similar powerful thoughts struck experiencing Van Gogh's work in person. It was as thou I was sitting on a wooden stool in the field right beside him.
So you see it? He asks. Do you feel it, with the clouds overhead, violet shadows dancing before you? Here we are, together, in the field under the summer sun by the olive trees, centuries apart, reaching thru time in this moment eternal.
P.S
I am knee deep working on the Sask Exhibit collection, cocooning now toward a deadline. This journey is by far one of my most challenging. So excited to share this new body of work with you in the fall! The new paintings released today have the flavour of what's to come. Enjoy!
New Work:
Windswept 11×14 oil on canvas $600.oo CAD
Morning at the Lake 12×16 oil on canvas $700.oo CAD