Koi.
A massive painting teaming with tangerine fish.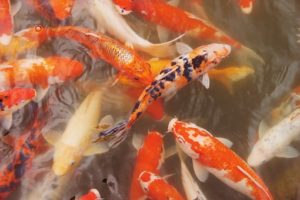 He was envisioning art for a wall yet to built.
The home's foundation hadn't even been poured.
For a man whose mind swims with incredible visual depth, it isn't surprising he imagined the entire project in completion.
The founder of Sho-Arc Bureau of Architecture, Michael Shocrylas, well versed in visualizing future projects, has the heart & mind of an artist.
As a child he drew "always and everywhere with abandon." He built things from scraps, drawn to colour & form.
Birds were a favourite for their smooth silhouette contrasting with intricate detail when studied closely. "A red tailed hawk drawing for my school vice principal was my first paid commission."
Today, he remains compelled by artistic pursuits.
"My spare time is taken up by research. I have an constant need to learn and see as much as I can so that I can somehow unlock ideas or find the artistic language for my thoughts."
Sho- Arc's stunning portfolio is as inspiring as it's foreseeing principal architect. Original designs host clean lines integrating natural wood & stone elements. One is struck by the impression of grandeur without being oppressive. Unique transitions invite the outdoors to meld with the space.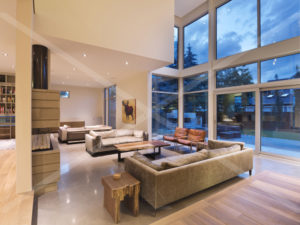 "They are the connection that I seek in every space. I am very connected to our environment and I follow a long tradition of modernism seeking to frame vistas, light our spaces naturally and remain connected to our natural environment. I design my landscapes to be as loose and natural as possible with a nudge to establish outdoor rooms."
Versatility in projects comes to the forefront when perusing Sho-Arc's portfolio, which includes an equestrian training facility.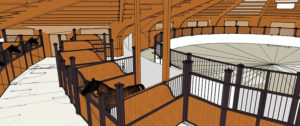 His diverse career path includes movie set designer. When asked about the Oscar his team won for the movie "Chicago", he wrote "I was a part of the large team of brilliant people that achieved this highest recognition from their peers in the industry."
I wondered if working in motion picture set design influences his work today.
"It exposed ego interior design as it relates to real life and how exteriors are an integral part of the design as an experience. I continue to see all of my work as a narrative whether in artistic or mathematical terms. As I curate the art and interiors for my clients and the houses I design for them, I imagine a different scenario each time and how I would like to live in a particular space or residence."
He continues "I would like to think that my work can be recognized but only for its custom approach and solution unique to the client."
It's the clients Shocrylas fondly refers to the most.
"I find that a great client is the most engaging aspect of what I experience on a daily basis, one that loves great design and pushes me and encourages me to stretch my abilities."
"The reward is in the planning and success in the result."
It's client respect and connection to nature where Shocrylas and I first found common ground.
Michael had been on a lengthy search for art with right fit for a specific project when he discovered my work.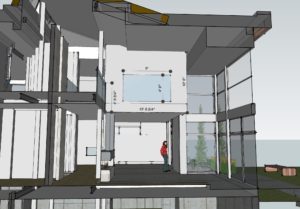 "I found your painting of trees and landscape on a post from a film colleague. It was in passing, scrolling by but I stopped immediately when I saw the color and use of space and form.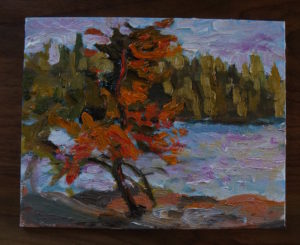 It was clearly the vision of our indigenous wilderness and the drama in brush work and use of color in your expression."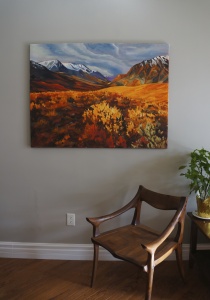 Design is not limited to aesthetic sense.
In reality, design in architecture & art can encompass form, function, and beauty. It can orchestrate collective experience, literally influencing emotions, behaviour and how we function in a space.
We live with art, interact and engage, even unconsciously to an astounding degree scientists are just discovering. It's also true for the spaces we dwell in.
~Who could be so lucky? Who comes to a lake for water and sees the reflection of moon. ~ Rumi
Great design will invite, inspire, awe, as well as serve function.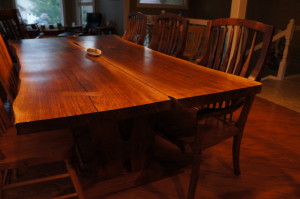 Art can act as a conduit with elements in a room creating cohesiveness enhancing occupants experience. Art can be an active participant in dwellings and we can use this knowledge to our advantage.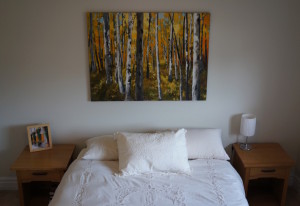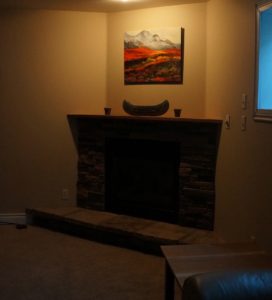 It's with this knowledge that I created the Commission painting that would be installed within Michael's design.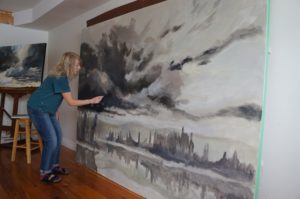 I made deliberate choices to create a dynamic piece, that will literally, interact and blossom within it's space. (click here and here to read further on the commission project & see it's development)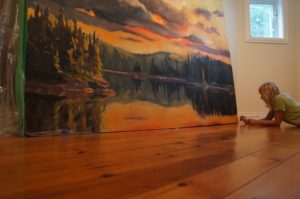 It was an absolute joy to work with Michael, who emulates sincere enthusiasm and inspires creativity in every conversation.
Weeks after the installation was complete he shared his early vision for the first time.
"Gazing at the painting I remembered the koi. It's incredible we both envisioned a fiery palette filled with movement".
-"Logic will get you from A to B. Imagination will take you everywhere." Einstein
~ Note: At Calgary's Mount Royal University, Shocrylas shares his expertise teaching sustainable home, perspective drawing for interiors and 3D design.
"Teaching," he says, "keeps me engaged with the emerging talent in the city and allows me to talk for hours about the aspects of design work that I enjoy most!"