Cycling 100 miles offers plenty of time to reflect.
During Saturday's century ride over rolling terrain, I recalled purchasing my first adult bike 15 years ago.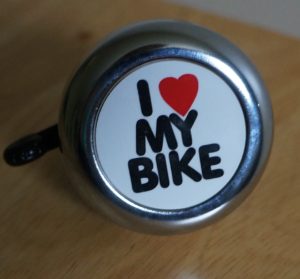 Trading a commissioned painting for a new red bike made returning to cycling extra special. My thoughts wandered back to that painting and commissions I have completed since.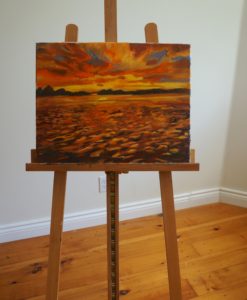 "Summer" new 14×18 ~750$
The subject of commissions is a popular and complex one. My last post ignited so much curiosity!
A science professor inquired (correctly) if I applied new methods while working on the large painting.
Embodying a consistent formula may be restrictive, and stifle the spark of creativity. One of the joys of an artist is discovering unfamiliar ways to adapt in a specific painting.
The commission in my previous post was unique in process.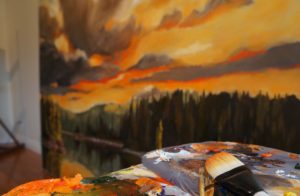 To clarify, I rarely pre-sketch and have never under- painted a monochromatic composition before.
Why it was necessary:
1.The size.
Working closely on a big canvas distorts vision. The ink sketch provided a 'road map' of sorts.
A monochromatic under- painting loosely portrayed the 'map'.
I don't paint on a grid form, or paint one area first. I work on the painting entirely at once, so it's important to 'see' what's going on in the whole piece.
2. Cost. A large custom canvas is very expensive and timely. I needed a plan.
Here is where it gets tricky.
Once I had the 'map' in place, I needed to forget about it.
It's critical to maintain a divisional line between planning and creative expression.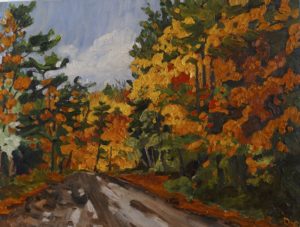 "Road" 18×24 ~1000$
To influence creative flow, I didn't pre mix, or pre- plan colours. (I never do.)
I created the palette spontaneously, adjusting the composition instinctively, as I went along.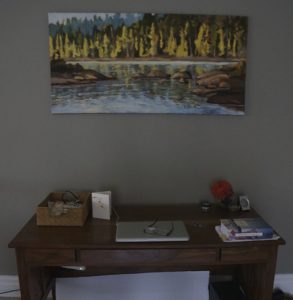 "Boreal" 4ftx2ft~ 3300$
Those who work in various creative fields wrote about the difficult task of explaining creative freedom to prospective clients. "Commissions" they wrote, "are a headache because often clients believe they can dictate the painting."
It's a common problem. That's why it's important to communicate expectations, and understand what you are hiring the creative professional for.
Earlier this year I received a letter from a new client for a commission.
He wrote most eloquently:
"Today I was introduced to your work by a friend.
My wife and I met here. As the area has grown on us, my wife has expressed interest in a piece of art depicting the area. Our goals in life will soon make us depart this northern city, we want something to take with us to commemorate the city we met, were engaged and spent the early years of our marriage. We have spent many days out (in nature) I proposed to her on one of the trails.
I admire you hold strong to your style and values and will not do commissions that take away the artist in you. When we were looking for a wedding photographer we told him l.. we just want our wedding to be fun! We did not lay out strict guidelines and format every image he was to take. So I would hope you would feel the same freedom!"
He had two requests. To complete a painting of the area, any size within his budget.
"My father collects art. He was explaining his enjoyment that every piece links him to a place he has been. It trickles memories of a vacation, a road trip and the events that led him to find these creations. We have not started a collection yet, but this is part of our inspiration to start! This will be our first original of hopefully more pieces from the adventures ahead! I appreciate any feedback or ideas for this piece, and if you are interested this would be great! Thank you for your time!"
My fellow artists would agree, this is a dream client.
Our plan evolved, after scrutinizing photos, I had a request.
I asked him to forget every photo he had sent. His painting would be an original. It was necessary for him to have an open mind.
He graciously complied.
He wrote: "I was asked today "What if I don't like how it turns out?" .. The door has been left open for you to use your own talent and style. This is part of the joy of it! … this painting will be completed with .. meaning for my wife & I. I basically love everything on your website…I feel that no matter how you use your brush (or brushless!), I know we will love this work!"
Later: "You have made this process so enjoyable!"
When the painting was successfully delivered, a letter arrived in the mail including something I have never received in my career.
A gratuity.
He wrote: "We are so excited!  She absolutely loves it!"
They had already framed it and found a perfect spot for it.
"We are both happy to have this incredible work to take with us and remind us of our days here.I have enclosed a small gift. The whole purpose of this was to create a memory of our time here. Now that we are moving, the timing couldn't be better. Thanks so much for everything."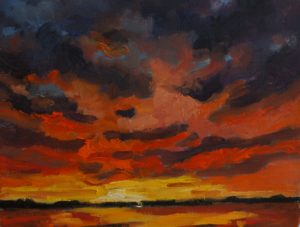 "Sunset 8×10~415$
How enriching to have such incredible people celebrate the work, all it embodies, with deep respect for artists and creative process!
Like the thousands of cycling miles I have ridden since that first red bike, I am so grateful to have built a foundation of amazing clients who make a difference in my life, and in turn, continue to infuse the work with love & joy.
This year, I celebrate you. ~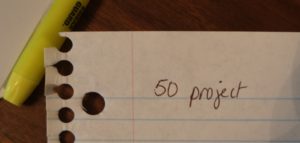 The 50 project is well underway. 50 Collectors, 50 paintings, celebrating 50 years, in gratitude.