"Money is quite ordinary." she said. "Important, yes, but, in itself, ordinary."
"Yet, in exchange for it, I receive something extraordinary, this painting, unique to anything else in the world." "So you see, I feel I receive the better of the deal, and it is I, who should be thanking you." Client.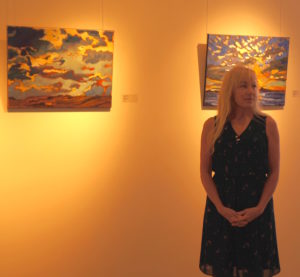 "I never sent a thank you card to a client." Robert Genn wrote, "I felt rather, it should be the other way around."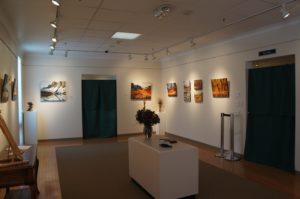 "You should be paid for your blog post. People need to understand your research, time & effort to keep us informed, entertained & educated. You contribute more to the art world than paintings. You are one of the hardest working artists in the industry, hands down." Dealer.
"For goodness sake, whatever you do, don't thank people for coming, they should be privileged to be there, and you need to understand that." Collector.
I did thank people for coming, for traveling in a fierce prairie snowstorm to the Shurniak Gallery on opening day of my solo exhibit last Wednesday.
An Artist's opening address usually focuses the collection, biography, narration of self reflection.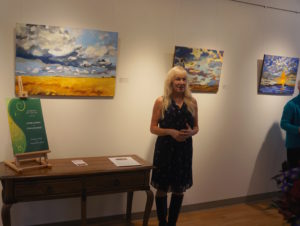 My opening statement didn't touch on the collection, instead, was steeped in gratitude, recognizing Mr. Shurniak's contribution to the art world, in thanks to my family & those attending.
I don't cater to my desires in my work, but to you. Always it's about connecting humanity. The very moment artwork is released publicly it's an attempt to communicate & engage.
If art was self expression, it would be kept private.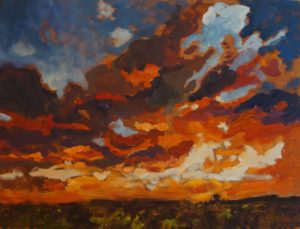 If you have been following along in the 10 years that I have not missed writing a blogpost, you know the depth of gratitude I have for my family, collectors, mentors, & dealers, etc. You have ideas where my inspiration originates, what fuels it, and how I work to maintain it. I don't believe I have natural talent but skill I work hard to develop, diligently listening to professional feedback, & observing client response.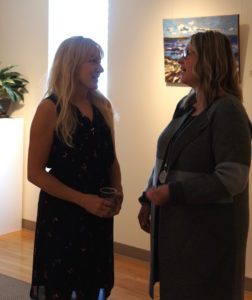 There are amazing stories to share about last week's events. Recognizing this fact brings a huge sense of gratitude.
Yes, again the thankfulness.
Expressing thanks is practice of good manners, whether it's recognizing a small kind gesture, or those who traveled 6 hours in a snowstorm to the exhibit. ( which my family did).
Gratitude expression is also a positive internal and vocal reminder. 
Recognizing what/ who contributes to 'positivity' or' success' feeds inspiration, comforts in times of struggle, fuels dedication, joy, and accountability.
Its wise not to confuse gratitude with lack of worthiness.  "Don't you think you deserve it?' a client asked when I thanked him. Not comfortable with the word 'deserve', which suggests entitlement, I do wholeheartedly believe in the work, it's value,my worthiness of abundance in health, love, and yes, success too.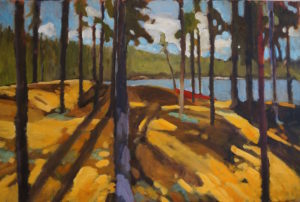 Before we convey last week's stories, my thanksgiving today is focused on the art itself.
What I have witnessed it achieve, its engagement, contribution, it's wonder.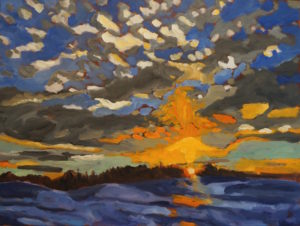 Listening to you in the beginning of this post, perhaps we are a part of something nearly undefinable. Something ordinary in exchange for something extraordinary.
Also given the rare privilege to glimpse Mr. Shurniak's passion & extensive diverse collection thru his eyes, I see art has an ability to transform, to transcend.
Magic exists, it's alive the moment people are in art's midst. You can feel & witness the energy exchange like sunbeams parting the sky on a snowy day.
Understanding dawns on faces glowing with delight. You feel it in the hugs and handshakes of those present, hear it in their heartfelt whispers, and tearful sentiments. You feel it in their gratitude. Being in the midst of art is an unstoppable loving force. A freight train of empowering colour and energy.
A train I dreamt of and now, joyously see it's result.
Thank you, to art.
Happy Thanksgiving to all.
~
All new work is available for purchase. email me dawn@dawnbanning.com
New collection shown in various photos.
Included close up of:
"Manitou Sun" 18×24 oil on canvas $1100.00
"Red Canoe, Boreal" 24×36 oil on canvas $2170.00 
"December Light" 18×24 oil on canvas $1100.00
~For those curious, my opening address, in full, below.
"What a pleasure it is to see you all here today, in this beautiful gallery!!
How many of you have been to the Shurniak before? It's amazing, right?!! an incredible collection!
My first experience in an art gallery was at the encouragement of an adjudicator who came to our small Saskatchewan town when I was in high school.
"Go to the city, " she said, "see what the art world is all about."
Saskatoon's Mendel Art Gallery was hosting a popular New York artist at the time.
Yet it wasn't his exhibit that intrigued me. Instead, I was drawn to the quiet corridors that housed the gallery's permanent collection. In awe, I knew I stood before greatness.
Mr. Shurniak, by generously sharing your amazing extensive diverse collection with the public, you not only delight art lovers, you create them.
You inspire veteran artists and those yet to be, like I was all those years ago.
For this, and for hosting my work among these masters, I thank you.
Papa, for your love, for the positive role model you continue to be, to you & all the boys, Darin, Marc, Nicolas, for inspiring me by pursuing your own creative passions, living your lives with integrity & kindness I thank you.
In dedication & memory of my late Mom, my compass, who embraced the colour of life, encouraged my creative fire. I like to think a light that shines so bright, never really goes out.
To all of you, who have carved time out of your day, traveled in snow near & far, thank you for coming & welcome to HOMECOMING."