"I wish you could see this light that surrounds you in the night and I almost woke you up".
Stephen Kellogg and his skilled band held the Ark audience captivated last week.
"I Almost Woke You Up"  written to his sleeping daughters, was among many beautiful original songs they performed.
Kinetic musical magic filled the room.
It isn't the first time Stephen Kellogg held an audience with his smooth voice and guitar strumming hands.
Theatre spectators sat spellbound during his inspiring 2013 Ted Talk on Job Satisfaction. Click here for 19 min well invested.
SK's TourdeForty concluded in Boston this weekend (via Instagram)
"This whole tour is my midlife crisis move. I want to show my kids that dreams do come true and art is a viable job if you work at it. I want to show myself that the best is still ahead. I want to give you nights of music and storytelling that will take you out of the darkness that is our daily news. In short I want to fuse my heart with yours."
He continues,
"I've asked my musical friends in this formation of the #SouthWestNorthEast for help with this task. They have responded with talent, dedication & passion."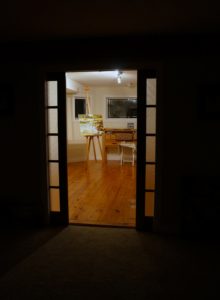 Art is a viable job, thou few express this with such absolute sincerity.
Thanks for doing so, Mr. Kellogg.
~