"A feast for the senses and the soul."— GLOBE AND MAIL  Mystical Landscapes at the AGO…"exploring the mystical experiences of 37 artists from 14 countries, including Emily Carr, Paul Gauguin, Vincent van Gogh, Piet Mondrian, Claude Monet, Edvard Munch, Georgia O'Keeffe and James McNeill Whistler."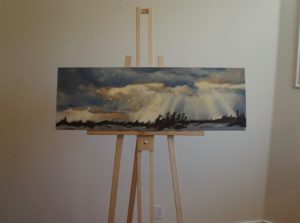 How does an artist experience an exhibit?
Like you, we savor.
Give the painting necessary distance when first viewing. Allow that image to soak in. Then, perhaps, move closer to study brushstroke and palette.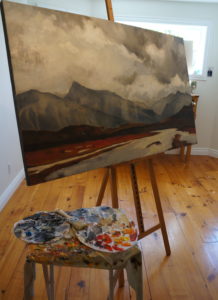 The Ago's Mystical Landscapes exhibit affected me like none other. It was as thou brushes were reaching thru time and alighting us all in the room. Soulful landscapes dominated the halls. Centuries melted away, the work felt current, startlingly fresh. We were in the company of masterpieces & the masters themselves, with personalities as bold as the work. Forests beckoned and welcomed us under their protective canopies. Sentinels towered, commanding attention. Skies illuminated and sparkled. Walls vibrated. Goosebumps tickled my skin from the wind, my voice stilled in emotional silence.
Two thoughts struck me, as I wandered in awe, drunk on sensation, from hall to hall.
I was standing amid some of the most accomplished and celebrated paintings of all time.
Someone purchased and preserved the paintings long before fame touched them. Some even risked ridicule from their peers by collecting them.
What are their stories? How many kitchens and living rooms did these paintings grace over the centuries? How many hands have moved them from flat, cottage, or manor, wrapped, packed, opened and gifted these paintings before they arrived here?
Art lovingly cared for thru their lifetime, and left to future generations who would share with the world. Who were the first? The first that fell in love with a starry sky and gave it a home?
https://www.youtube.com/watch?v=kliOluK0h3Q ( click highlight for video)
They came before the crowds, the fanfare, before a Monet, Carr, or Thomson was a 'sure thing'.
We have much to thank them for, these early care givers, collectors and believers.
To those who work in the industry; creators, curators, museum staff, gallery owners, collectors who purchase, celebrate, live with, donate, auction, sell, share, we thank you. To the painters, in your quiet studios far from the crowds, have hope.
We can be inspired as much by those who came before us in art, as those who believed in it. The guardians.
~
Mystical Landscapes was curated by Dr. Katharine Lochnan "After conceiving the idea for Mystical five years ago, Katharine invited 20 experts, largely from the University of Toronto, to explore the very challenging concept of the "mystical." What is it? Which artists were proponents of it? Which paintings best exemplified its complex character?
As you can imagine, there was no easy answer. Over the years Katharine adeptly stickhandled her way through the debates, encouraging open talk and a constant flow of ideas. What emerged was an intriguing, often moving story about nature and our place in it, together with a new understanding of 50 years of European, Scandinavian and North American landscape. The story and the artwork struck a chord: the exhibition attracted an unprecedented number of visitors to the AGO, sold over 8,000 catalogues, and garnered widespread international attention both for the Gallery and for Katharine."
From ~AGO Art Matters http://artmatters.ca/wp/2017/03/one-woman-five-decades-of-inspiration/
" ~ A.Y. Jackson was from Montreal. His work had caught the eye of Lawren Harris and J.E.H. MacDonald as early as 1911; they recognized that he clearly had aspirations in common with the Toronto artists and was frustrated by the reactionary art scene in Montreal. Jackson was lured to Toronto by MacDonald and Harris, then persuaded to stay (he had been toying with the idea of moving to the United States) by means of a similar offer from Dr. MacCallum as was made to Thomson – a promise to buy sufficient paintings to pay for a year's artistic activity."From : http://www.mcmichael.com/paintingcanada/panelsandlabels.html