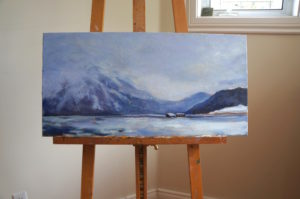 Mountain Snowfall 
"Too close," is an expression among creatives.
In the midst of creating artists may have difficulty 'seeing' the piece, unknowing if it's moving in the right direction. 'Is it bad or brilliant?' syndrome.
Think of a problem/ decision/discussion/ crossroads you encountered in the past.
While emotionally invested, you may have felt unable to step out of the fray and see the big picture objectively. One can be temporarily blind to solutions.
The term ' too close' refers to physical, mental & emotional state.
Like jumping on a train with destination unknown, or cutting your own bangs, it could have unpleasant or surprisingly positive results.
"Too close affliction" is why I nearly trashed one of my most sought after paintings.
Distraught over ruined expensive materials & wasted weeks of work, I was hoisting it out of the house when Marc stopped me. He loved it, insisting it be included in the exhibit I was working on.
Summer Beach
I don't know why, but at one point I agreed to let the gallery owner decide.
He loved it, and set the price.
Thou I had nightmares about presenting the painting publicly, it was a show favourite, found a home quickly, and was my first sale over $1,000.oo
More than a decade later, people still approach me about that painting.
And it nearly went in the trash.
Proximity challenge also occurs in the midst of growth.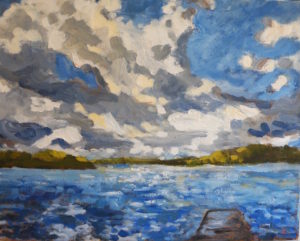 Desire to improve fuels artists like athletes.
Evolution of the work isn't about pursuit of perfection, rather striving to offer more, digging deeper into the artistic well. Finding creative solutions how to engage the audience more fully and illuminate the subject to the best of one's ability.
It's also a matter of survival in a highly competitive industry.
Increasing knowledge, skills, listening to critics, dealers, market dictations, instincts, and clients, artists strive for individuality hoping to remain true to their creative spark. The road can be tough and not for the thin skinned.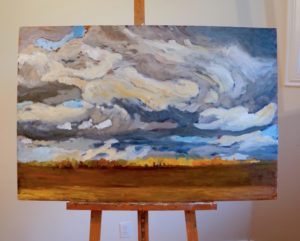 Autumn Treeline
It is a fine balance to remain in the eye of the creative storm. In this daily whirlwind it's easy to become too close.
Life parallels in coping strategies may help your journey encountering 'too close syndrome.'
1. Distance allows clarity of perspective and space for answers.
Put the art away, out of sight out of mind. Viewing later ( weeks/ months, years) with less vulnerability and fresh eyes/ new perspective will do wonders. Solutions will appear.
2. Double Easel. Working on two or more paintings at once prevents from overworking, or' dwelling' on one piece. Dwelling, overworking, overthinking, overanalyzing are self imposed obstacles which stall & block instincts, preventing good energy flow.
3. Immerse in Nature. Take a nature break without paints, camera or company.( if safe to do so. ) Nature has powerful effects, offering peace, solutions and revitalization. Exercising in nature, you increase the effects enormously.
4. Remember your truth. See the big picture. What do you want to contribute to others & the world? are you 'too close' to see what you create? are you accountable to your actions? are they in line with your beliefs & what you represent? how do you hope others interpret your work? what is your legacy?
By forging a solo creative journey, one may become over self involved, neglecting what & who is outside the 'bubble'.
What solutions arise when you act to contribute rather than receive or achieve?
Remember why you chose this path in the first place, knowing choice is fluid.
Change of scenery, medium/ genre, relationships, occupation, can infuse the soul and offer new perspective.
~
I wholeheartedly believe in order to progress artists have to be their own toughest critic.
A dear friend reminded me to find balance among harsh self judgement "while you see flaws, others see beauty". Robert Genn wrote ~paraphrasing,~ 'you may want to think about hanging onto your dogs, there is a pup for everyone."
All NEW work above available for purchase:
Mountain Snowfall 12×24 oil available at the Hambleton Gallery Winter Exhibit
Summer Beach and Autumn Treeline each  24×36 $2170.oo oil in progress in studio
Kenosee 14×18 oil $825.oo on exhibit at the Shurniak Gallery
Congrats to new collectors of "Bay", SOLD this week & Thanks to International Art Designs for the assistance in framing!