People inquire if spending a month in secluded wilderness was frightening.
Was the duration of the trip a challenge?
Did I crave the comforts of civilized life?
In fact, quite the opposite.
I hadn't applied for the project.
The invitation to join renown artists on expedition of the boreal forest was a complete surprise.
I had 24 hours to make a decision.
24 hours to decide to spend a month with 5 complete strangers
…in remote northern wilderness.
We would travel by canoe,live in tents,
and have no communication to the outside world.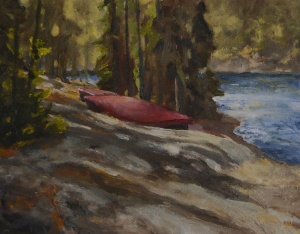 New "Canoes" 18×14 Original Oil
We would carry all provisions for 30 days on our backs.
I needed to budget for the adventure, re- organize projects & plans.
The expedition was to begin in 6 weeks.
The experience was professionally and personally, transforming.
I discovered a new rhythm of life in the wild.
I found new friends in talented artists who I would call my 'boreal family'.
I rediscovered a relationship with the wilderness I had known as a child.
Brilliant sunsets with shorelines ablaze lit fire in every brushstroke I painted.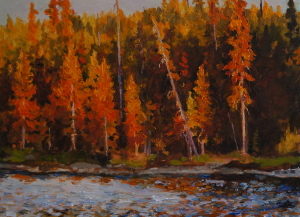 New Ablaze 18×24 Original Oil
I became a resident of the boreal.
No longer a visitor, everything changes.
The cravings only began when I returned to civilization.
I craved how the paddle felt in my hands rippling in the clear lakes we traversed. I craved its melody.
I ached for fresh air and open spaces.
I craved the forest, it's scent, life & colour, it's welcoming spirit.
I yearned to hear the night voices of the wilderness, the call of a loon and slap of the beavers tail, the whisper of the wind in the pine.
The expedition would be one of my most profound experiences.
The spirit and essence of the boreal still beat in my heart and brushstroke.
A call of the wild never to be forgotten.


Joanie McGuffin & Dawn~ photo Julia Hargreaves