The Japanese call it "forest bathing" when one seeks restorative benefits immersing in nature.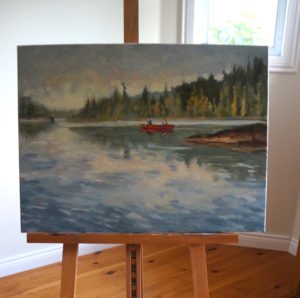 New Red Canoe 18×24 oil
I have been refreshing my soul exploring forested mountains recently by bike and on foot.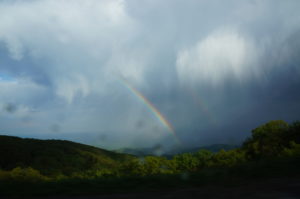 last week.
Reacquainting with wilderness brings a sense of renewal physically, mentally, intellectually, even spiritually. It's a brilliant reminder of who we are, where we really live.
"You didn't come into this world.
You came out of it, like a wave from the ocean.
You are not a stranger here." 
Alan Watts
Exploring quiet valley trails draped in mystery elicit memories in of past experiences in nature.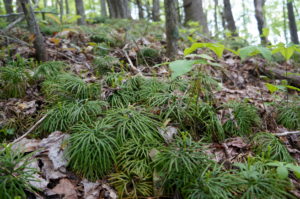 I recall spending a month in wilderness traveling by canoe inspiring the first, and until now, the only canoe painting I have created.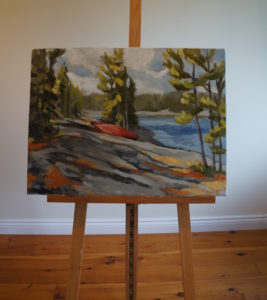 New Canoes 18×24 oil
First Nations people and explorers traveled our expansive waters by canoe. It's an iconic Canadian symbol reminiscent of family adventures or solo pilgrimages answering a deep call of nature.
Paddling a canoe can feel incredibly meditative. It's wonderfully rhythmic, your blade churning fresh water as your craft gently sways.
Some philosophies suggest the experience meets all 4 elements, physical, intellectual, emotional and spiritual.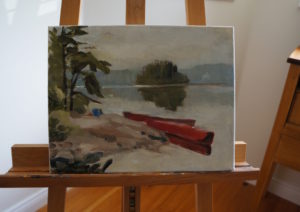 New 2 Canoes 11×14 oil
This time of year summer backcountry expeditions come to fruition.
Whether goals include exploring 'unchartered waters' or reacquainting with wilderness, on your journey may you feel the restoring benefits of forest bathing as you immerse in nature.
~Note. All new work is available for purchase. I am still puttering with the last two paintings. My way of not overworking is to post them quickly. :0) There have been many requests for canoe paintings, thanks so much for your interest!