Fuel  and preserve passion for work by taking a healthy break from it.  Even artists need a vacation.
This was my intention, leaving paints & brushes behind on a recent journey retracing our roots with my brother & father,
Yet surprisingly, my artistic history emerged in remarkable ways.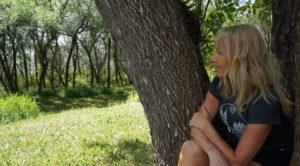 Read about this and the inspiring, influential place that helped shape me as an artist, in a future post.
 New "Inlet" 22×28 oil on canvas
While traveling, I have been reading "Rising Strong"  (Brene Brown) and  "Talented is Overrated"(Geoff Colvin) in the midst of watching inspiring Olympics.
Remarkable similarities exist between sport & art with notable parallels how athletes & artists approach training, commitment, and development. Science continues to prove benefits of creativity within humanity, in sport and otherwise.
Brown's work expresses creativity plays an important role in coping with failure and obstacles in "Rising Strong". Colvin makes a convincing case for deliberate practice, in "Talented is Overrated".
Reflections on these subjects and the story of my journey to follow soon.
Meanwhile, requests for northern shore and canoe paintings flood in. Fortunately, subject matter I never tire of. :0)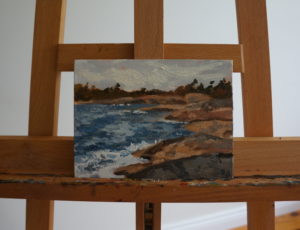 New "Ancient Shore" 6inx8in oil /board
Watch for these developments on your social networks. Now on Instagram(@Dawnartworks), Linked IN, Twitter. and FB.
Creative juices infused from my adventure, it's a flurry of activity in the studio these days.
May summer journeys invigorate you & renew your sense of self, perhaps with a few surprising discoveries along the way.~
Note: The Canadian north is a popular subject among painters & poets for good reason. It's breathtaking.
In northern Ontario, rocky shorelines forged by powerful windy lakes cradle windswept pine.
For lack of a better word, the landscape feels brave. It's unapologetic & awe inspiring.
Years ago, plien air painting on a frosty day in winter, I created two little pieces that encompassed technical freedom I have been yearning to capture in the work. It was due to absolutely frozen numb hands, limited frozen paints and one overused brush.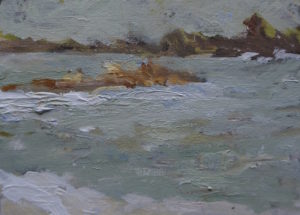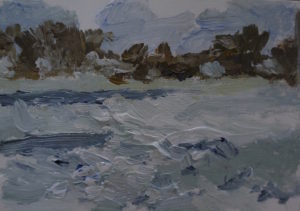 Ever since, I have been trying to evolve the work to exhibit this kind of passionate rawness.
Think of it as getting to the point with fewer words.
The landscape painting is less illustrative, focusing on how it feels to be in the midst of that power & beauty.  The new northern paintings have elements of this ruggedness, mood & power. I am so pleased with this new work & hope you are too!