They were offered champagne, swept into a private room of the gallery and ushered into cozy seating.
The dealer announced the painting price "may be flexible" because the artist "doesn't really need the money".
My friends felt pampered while somewhat perplexed.
They hadn't asked about purchasing art. They just said it was 'nice'.
"Suddenly we're being directed into this room, champagne thrust in our hands.
It was sort of cool, after all, we were on holiday in a festive mood".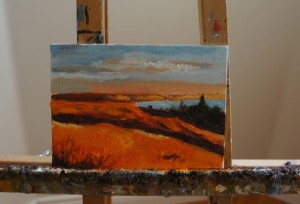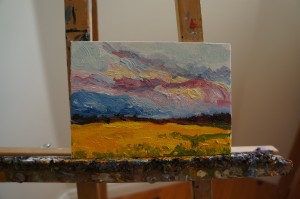 New Original Oils 5×7 on canvas board
Were they prepared to buy? Was it a good price? Why were they offered a 40% discount?
They wanted my opinion, but couldn't remember the artist's or gallery's name.
They weren't sure if the work was original.
"We were sort of caught up in the whole ambiance."
I wondered how much champagne was flowing that morning.
The whole experience sounded fishier than the mahi-mahi they dined on during their vacation.
I was relieved they hadn't taken the bait.
Most Dealers and Artists are ethical, honest professionals who desire to share their passion for art, but my friend's story brings up a familiar topic in the industry.
Is art priced fairly, what are you buying, what is the value, and why doesn't everyone thrust champagne at you the moment you comment on a painting?


New 8×10 original oil on canvas board
With few guidelines, purchasing art can be an enjoyable and thrilling experience (even without the champagne) void of worry & doubt.
Tips on visiting a gallery, click here.
What to look for in a representing gallery and how commission structure works click here.
Auctions are another story for another day.
What are you buying?
The art displayed should have clear information on genre/ medium/ artist, etc.
Is it original?
"Hand signed by the Artist" it's signed, but not likely original.
Giclee on canvas is a print on canvas.
Print : there are many types of prints, serigraph, lithograph, lino cut print, wood cut print.
The print may be limited (a specific number of prints in circulation) or unlimited.
Mandy Salter of Salter Art Appraisers voiced prints are only worth 'the paper they are printed on', during her lecture on art as an investment.
Lino & Wood cut prints have a certain amount of originality because of the process. Ask the experts.
Accredited Art Appraisers and Dealers can help establish value of art, and assist in collection management.
To read my post on Corporate Art Collecting, click here.
Rule of thumb in Canada prices increase approx. 10%- 20% each year the artist is actively selling.
Pricing is usually established by representing galleries. Mine were.
The artist/ venue should have a price list, bio/CV, press releases, etc and answer questions clearly, with no confusing artspeak.
Art should be consistent in pricing, and considerate of comparable work in the marketplace, even if not represented by galleries.
If self represented, a professional website is a must.
Are they a professional artist?
Recreational artists aren't necessarily trying to establish long term value in the work, ( ie: getting work to the secondary market, etc).
This may reflect in their pricing.
After using common sense when purchasing art, one guideline is recognizable among dealers/ appraisers alike:
Do you LOVE it? The art market is fickle, even with the recognizable names, therefore, buy/ invest with love..