He repaints the studio walls after every project.
….. every project.
His studio is devoid of accolades or knick knacks. No awards or pictures adorn the clean white washed walls.
"They can be a source of distraction while creating." he said.
It isn't for lack of awards, famed music producer Rick Rubin has won 8 grammies and 2 CMT's. "Time" has named him one of the most influential people in the WORLD.
He is known for helping artists excel to levels they may have not thought possible. He sees possibilities, combinations, opportunity for artists to stretch their reach, beyond genres or stereotypes.
"To bring their best".
Who else could convince a country music legend at the end of his career, his voice failing from illness to record a rock song by the young band Nine Inch Nails?
"There were times when his voice sounded broken. He tried to turn that into a positive in the selection of the music."
Johnny Cash's last album including the cover of "Hurt" was the first to hit gold status in more than 30 years. *
The video had songwriter Trent Reznor of Nine Inch Nails in tears. It has over 17 million views You tube. (link below)
"Dan Charnas, a music journalist' .. 'said, "He's fantastic with sound and arrangements, and he's tremendous with artists. They love him. He shows them how to make it better, and he gets more honest and exciting performances out of people than anyone."Natalie Maines of the Dixie Chicks has praised his production methods, saying, "He has the ability and the patience to let music be discovered, not manufactured. Come to think of it, maybe he is a guru."
Barefoot, clad in casual shirt and shorts, a long gray beard dominating his features, Rick looks like a yogi master. 
He has been practicing TM since he was 14, encouraged by a doctor, saying his neck pain was due to stress and suggested meditation.
To get a sense of his creative process, tune into to Malcolm Gladwell's wonderful podcast interview. I urge you to listen, his voice cadence exudes sincerity and enthusiasm.
Dramatically, part way thru the interview, Rick and family had to flee his home with just 'a few t-shirts' from the raging California wildfires. He has no idea if his home has burned.. yet he seems peacefully focused during the interview. Besides the admirable way he handles sudden life crisis, its a glimpse of how brilliant creatives can be, accepting, fluid with circumstance beyond their control. 
A link to the interview here
Gladwell asks him about the possibility of losing everything, and how would that be for him? Rick responds.. perhaps its a good time for the refresh button.
Besides an admirable perspective, Rick's adaptability, and this seemingly non attachment to that beyond his control, may allow his creative process to flourish.
It's that genuine love of the work, and an understanding true excellence is discovered in encouragement to reach beyond. Growth requires vulnerability and fearlessness. It requires curiosity. To begin anew, we need to be brave.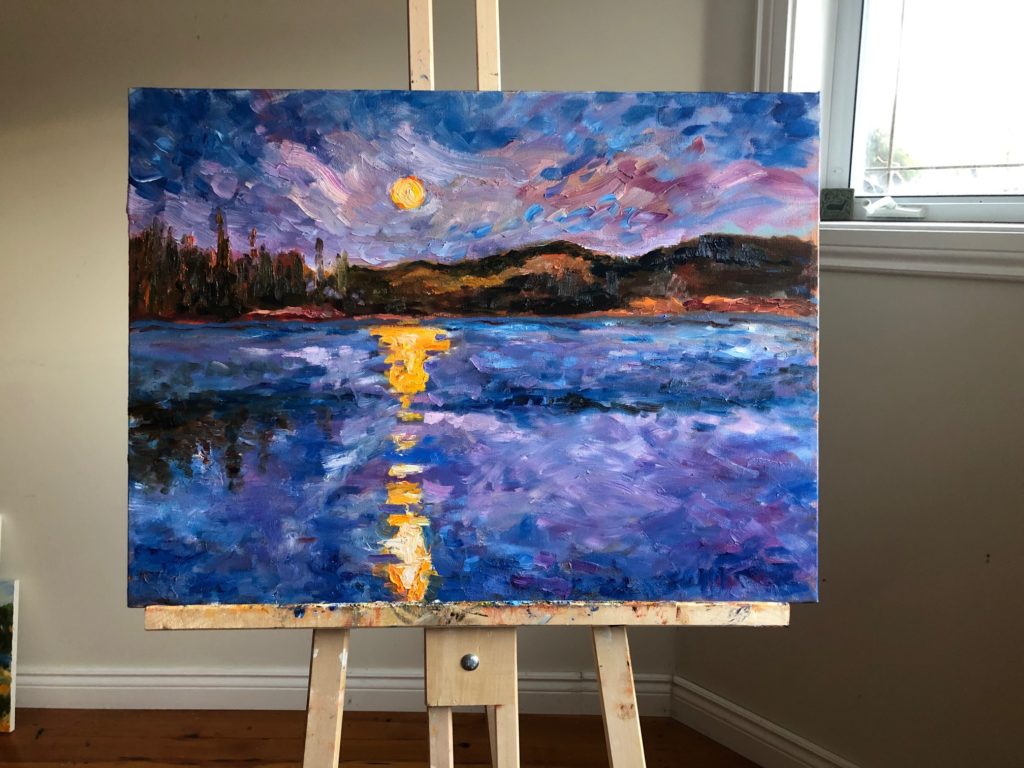 Many of you are choosing to hit the refresh button with a New Year upon us. To start anew and purge that what no longer serves you.
Even happy beginnings can be daunting.Writing your first book, staring at the blank page wondering what comes next. Retiring, relocating, leaving relationships or career, learning a new trade or craft. Building a home or an art collection. Starting a fitness regime.
Artists understand scary beginnings. We begin something new every day. We shed what wasn't working, and explore what might.
Thou starting out can be fearful, following directly after is wonder, possibility, power and newfound confidence.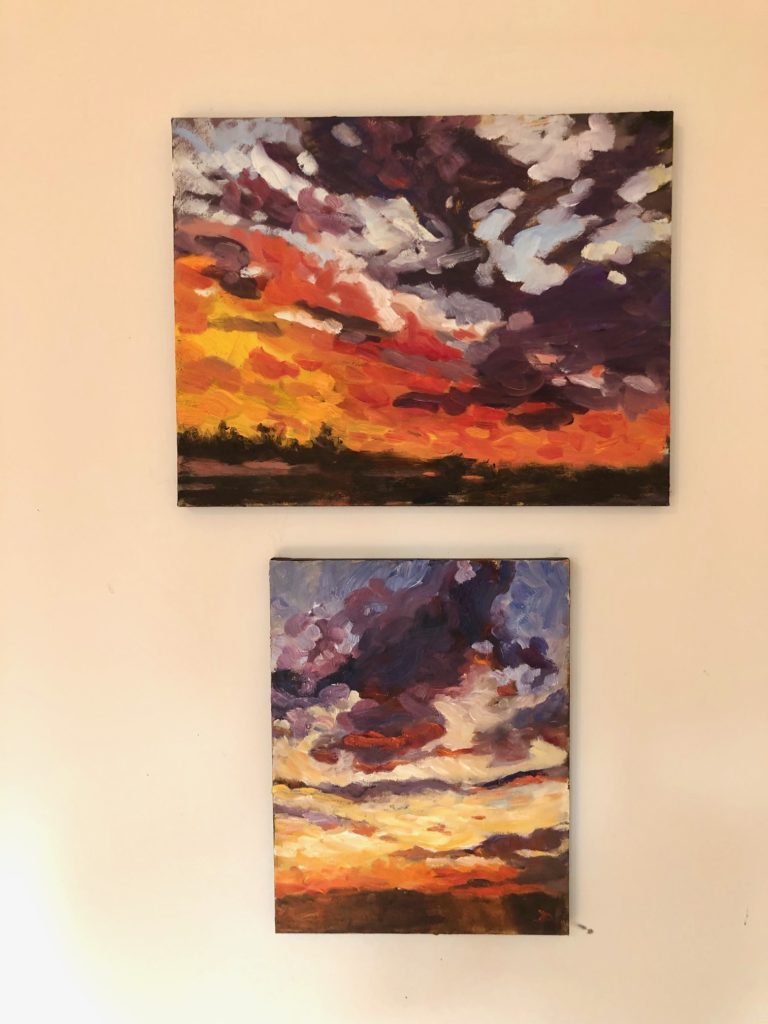 There is so much strength in movement. In active choice.
Taking the leap, picking up the brush, closing the door. Purge what doesn't serve you.
Open a new door, hold your face to the warmth of the sun, breathe in the light, sleep well the night, let dreams unfold.
Turn the corner, turn the page. Open the paint box. Squeeze out life's vibrant colour. Begin.
Begin Begin Begin.
~
All original paintings are available, including NEW " Moon" 18×24 oil on canvas. Email me to purchase.
I am working on a private 4 foot commission these days ( shown in studio photos). So exciting to be working in paint after weeks of working on the composition. I may not be post while I focus on this piece, but please feel free to email for purchases. As you can see from studio photos, lots of new inventory hoping to find homes. Cheers and Happy New Year friends!