While Nat King Cole's soothing voice fills the room,
I am reminded Artists in all genres seek longevity.
"Unforgettable."
It's an aspiration to touch lives with work that stands the test of time, making a difference for generations.
Shakespeare, Da Vinci, the Group of Seven, and Jim Henson.
Music chart 'One hit wonders', overshadow lesser known 'One painting wonders'.
Painter's success may be brief, trendy, or a ride on the commercial wagon.
Others have lasting careers, with awe- inspiring work outliving the creator.
Among these greats, there are those who touch the lives of thousands, with outstanding generosity to the field.
Twice weekly a letter arrives in my inbox, bringing wonderment of discovery.
'Dear Dawn,' it begins, as does my education.
The free newsletter may include painting tips, art history, or industry insight.
It may have a hint of the philosophical, threaded with humour, be profound, lighthearted or practical.
Always engaging, never disappointing.
It begins.
Years ago, I was inspired to thank him personally.
Do all famous artists answer their phone?
Mr. Genn? I asked in amazement.
He knew I was a stranger, by how I addressed him.
"Friends call me 'Bob'" he explained.
He was soft spoken, laughed easily, pulling me into talking about work.
I faced a new dilemma discovering my work on 'The Keys' later.
Now how do I thank him?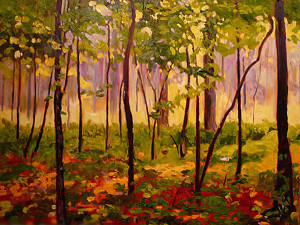 May 2008 Emerald Forest as published on the Painter's Keys.
I made him fudge.
Over the years, there were more emails, more fudge parcels, and much more advice.
With a call one day, "Hey Dawn, Bob Genn here", suddenly we were no longer strangers.
He joked after watching my first sport video "She cycles and she makes fudge!"
"If my art career tanks, I would have a back-up making fudge," I said.
"That would be fudging" he quipped.
Waiting for critique from my EBook draft, he simply wrote
"Good Stuff Dawn!" and agreed to include his quote.
We share clients. It had me wondering about the longevity of the work, if our paintings will hang together for generations to come.
Robert Genn traveled the world painting, hosting workshops, with dedicated fervor prolifically producing incredible work.
He published 5 books.
I wondered why he kept up with the newsletters. He didn't need the exposure, and had a full plate.
It came up in conversation one day. He said something similar to his humble explanation on the Painter's Keys welcome letter,
" I like the idea of the Brotherhood and Sisterhood of Artists, a worldwide community of creative folks with a lot of the same concerns. While ours seems a simple business, there's just so much worth knowing."
He inspired a global network of Artist's, reaching beyond borders to communicate, discover and learn with his guidance and mentorship.
Most artists lead a solitary work life.
What can be a lonely plight, thousands found solace in the community he formed, and will continue to do so.
He was right, there is so much worth knowing.
Today loved ones gather to celebrate the life of Canadian landscape painter Robert Genn.
With heavy heart, I say goodbye.
Recently I told him his legacy is not just in his amazing art & teachings,
but also in the magnitude of his kind generosity,and the love he expressed for his family.
He told me he was philosophical about it, focusing on them.
"Dawn I have such great kids".
Love being at the very core of who he was.
Thanks Bob, you will be greatly missed.
~dawn
"As we lose the fading palette of the past, something lives on in the colours that will last."~ Darin Larson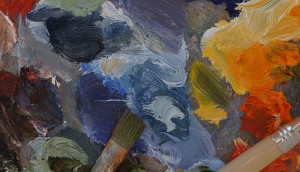 ~Our thoughts are with his wife Carol,his three children, Dave (Tamara), James (Shawna) and Sara (Peter), three grandchildren, Beckett, Zoë and Poppy.
The Painter's Keys letters continue. Robert's daughter Sara, now writes one of the twice weekly letters,the second is a republished letter of Robert's.
Sara is an artist and musician in her own right, her writing, insightful and inspiring.
This video by Peter Segnitz of Bob & Sara at Hollyhock is one of my favourites.